Top 10 best superminis 2019
The supermini segment is one packed with options for new car buyers, but it is no longer sufficient for a car in this class to simply be small, frugal and well-priced.
To make our top ten list, a supermini needs to be so much more than a car that can seat a couple of adults and a couple of kids, carrying a decent amount of luggage. It must be desirable, well-equipped, decently spacious, pleasant to use and to spend time in, and have a dynamic makeup that mixes drivability and ease-of-use with agility, comfort, verve and refinement just so.
Increasingly, superminis are offering quality, equipment, performance and usability that bears comparison with bigger five-door hatchbacks; and the best ones combine all that with the agility that only a small, light car can offer.
So what tops our list?
Storming to the top of our supermini top ten is the fifth-generation Seat Ibiza. The Spanish company went to great lengths to replace the decent fourth-generation Ibiza with this handsome hatchback backed up by real substance. It was the first of the VW Group's latest breed of MQB-based small hatchbacks – and, to date, remains the best.
Mimicking the bigger Leon in many ways, the Seat is roomy, well-equipped and much better-finished than before. Combine that with its first-class on-road handling and refinement manners, its value-for-money position, its impressive equipment features and its youthful styling, and it all adds up to a class-leading proposition for us.
Still the sensible supermini of choice, the latest VW Polo is usable, refined, easy-going, mature and very solidly built.
Compared to the previous-generation car, this new Polo is a huge departure, mixing a tad more technology with improved dynamic capabilities. The Polo's ascent up our top ten list shows how close it is to being the ideal supermini: and that's pretty painfully close. It's a little bit unimaginative to look at though, as well as reserved to drive and typically expensive for VW.
In many other respects, the Polo's an outstanding car. But it's much more likely to appeal to your rational mind than your emotional side.
Our one-time class-leader had the difficult task of bettering its predecessor, which might have been the best-handling supermini of the last twenty-five years.
This new version is much more than just a re-skin of the old one, and in some respects – namely its supple ride, sparkling on-road handling dynamism and driver appeal – it remains best-in-class.
However, the Fiesta's new crop of opponents have moved the supermini game on, in ways that this Ford can't quite cover for. Interior quality lets the Fiesta down compared to the very best in class, while equipment sophistication and practicality not quite in the same league as the classy Ibiza either.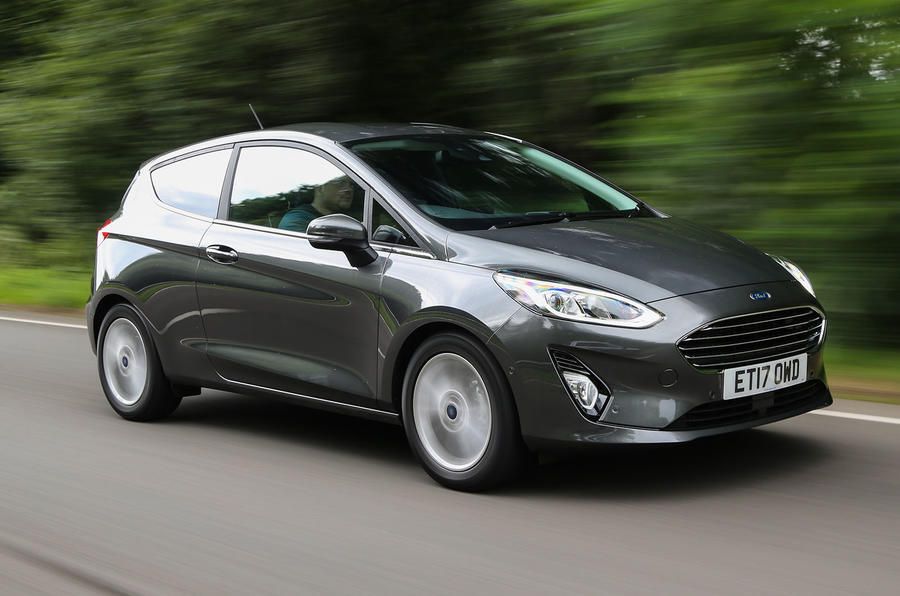 A modern rework of a classic name, and now in facelifted third-generation form, the 'new Mini' continues to build momentum, and to enjoy enduring sales success. It remains quite expensive to buy and you will need to tick a fair few option boxes to get all the equipment that many of its rivals include as standard – but the Mini continues to deliver retro style, singular charm and desirability, premium equipment features and driver appeal like few cars in this class.
The car's small by supermini standards, with packaging that isn't brilliant, and space is tight in the boot and rear seats. But its selection of nippy three-pot engines and well-put together, premium feeling and quirky interior make it a great place to spend time, while its direct, terrierish handling should seal the deal for keener drivers.
The Mazda 2 has matured over the years to become a grown-up supermini that is very well-made. It may not be quite as vivacious to drive as some of the cars above it in our list of the best superminis on sale today, but it remains a car an interested driver should naturally gravitate towards for its clean-revving atmospheric engines and its nicely clipped, involving handling.
Those naturally aspirated engines do need to be worked hard but its perky handling will reward those willing to invest time and effort to search higher up the rev range.
The fifth-generation Micra is a huge departure to the one what went before. For this car, Nissan brought manufacturing of the small car back to mainland Europe.
Built on the same production line as the Renault Clio, the old verion's dowdy looks are long gone, and likewise the fifty shades of scratchy grey plastic associated, replaced by an edgy hatchback that's really distinctive, well-built and enjoyable to drive. The Micra is available in a host of vibrant colours and personalisation options to match its sharp steering and impressive tech offering.
The rear seats are small and the turbocharged 0.9-litre triple is a little unrefined compared to its rivals, but it is nevertheless easy to live with.
Another solid effort from the Volkswagen Group, but unlike the Seat Ibiza, the current-generation Skoda Fabia plays it far more safely. In design terms, the Fabia is short on visual flair. Interior space is strong but not best-in-class, while the car is comfortable and pleasant to drive but not remotely engaging.
Being a Skoda, the Fabia certain seems well built, and is decently equipped too, with an attractively styled interior – albeit one that is feeling dated now compared to the plusher Ibiza. The Fabia remains a strong contender, but will be all-the-stronger when it joins its VW Group siblings on the latest MQB model platform.
The dowdy, conservative image of the previous Clio has been shed for this attractive, stylish and fairly practical fourth-generation supermini. It's been done without losing those trademark French traits of fluent handling and easily-won agility, while the Renault Sport versions of the Clio are typically riotous to drive.
The Clio comes a little undone due to its tight rear seats, a dated infotainment system and a cheap-feeling interior, something its cousin the Micra has done well to overcome. But, considering its age, the car retains surprising design appeal.
The Jazz is not the most vivacious or upmarket supermini on sale today, but it is another solid effort from Honda with some attractive features.
Simply and cleverly packaged with its rear 'magic' seats tucking neatly out of the way when folded and offering something genuinely unique to this segment, the Jazz does practicality like few of its rivals. It's also fairly attractive to look at and handles reasonably well.
Where the Jazz fails to impress is with its naturally aspirated 1.3-litre engine, which needs to worked very hard to make brisk headway, while the infotainment system is complicated to use.
10. MG 3
"Cheap and cheerful" used to be all a supermini needed to be to earn its place in the market. How things have changed. However, cheap and cheerful is enough to get the latest MG 3 into our supermini top ten, if only by the skin of its teeth.
In 2018 updated form, the car has appealing looks and a much-improved cabin – while it was always a much better car to drive than it needed to be to justify a £9000 price point, thanks to well-sorted handling, weighty and feelsome steering and an engine with plenty of performance, as long as you're prepared to work it (and to tolerate its noise).
In a market where it's easily possible to spend upwards of £20,000 on a small car, one that's as good to drive as this, for half as much, is heartening to find.